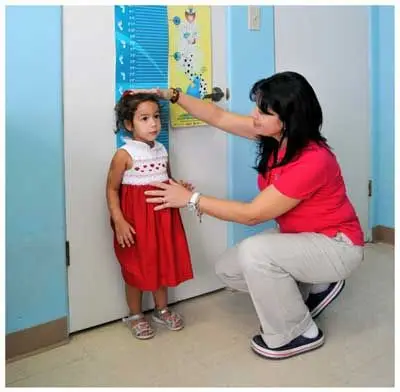 We look forward to meeting you! For your appointment please bring:
You & your child's SSN
Your valid Driver's License
A valid Insurance Card for each child
Your child's Immunization Record
Your Child's previous Dr.'s contact information
There may be times when your child has a more urgent need to be seen, in which case Dr. Muñoz will be happy to accommodate you.
To book an appointment please call our office at (813) 879-1985 . If no one is available to answer the phone please leave a clear and short message with your child's Name and Date of Birth and we will return your call.
You may also book an appointment via our patient portal . We accept walk-ins for sick visits, physical exams, and follow-up visits. However, it may mean that you have to wait. We appreciate your patience.
Cancellations
If you need to cancel or reschedule an appointment, particularly a good visit or consultation, please do so at least 24 hours in advance. A significant amount of time is allotted for these appointments and we would like to offer this time to other patients if you are unable to keep your appointment. There may be a fee for missed appointments or cancellations less than 24 hours notice.
Arrive On-Time
We try to be as on time for our appointments with you as possible. Please come to the office promptly for your scheduled visit so that we can give you and your child the attention you need. It may be difficult to help you and the other families we need to see if you are late.
Walk-In Appointments
We always want to assist ill children and accommodate families. Please call the office for an appointment if your child or children need to be seen. We will try to see walk-in urgent patients and extra children brought in to be seen who do not have appointments during regular office hours (though at times that is difficult and can delay other families). Specific walk-in hour times may be designated by the office to help with illness needs.
After Hours/ Weekends
If your child becomes sick after hours, on weekends, or over holidays, we are happy to help. If the issue cannot or should not wait until the next morning, contact us through our urgent after hours number and we will return the call as soon as possible. If your child needs an appointment the next day but is OK to wait overnight, contact us after 8:30 AM for assistance.